How to Select the Color for Kitchen Cabinets?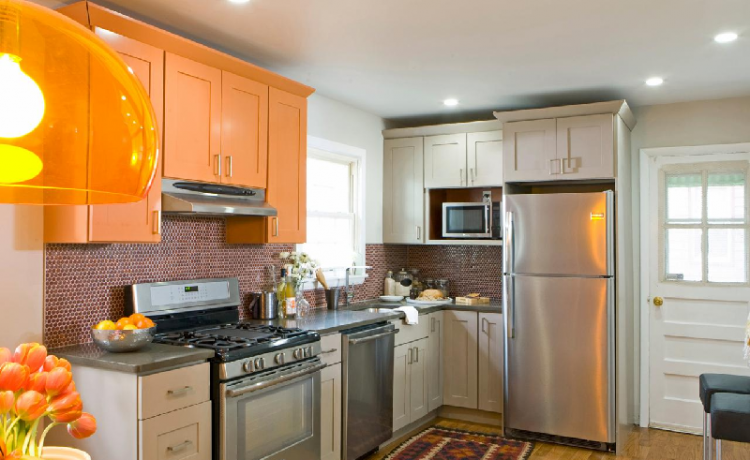 If you want to make your kitchen really beautiful then you need to select suitable kitchen cabinets and also paint them with suitable color so that it can look gorgeous.
You may click here to get few tips to choose the right color of the kitchen cabinet.
Check the design style
As a matter of fact, design style of the kitchen will guide you to choose color of your kitchen cabinet color. Typically, any traditional kitchen designs will look the best by painting it with classic colors, like creams and whites.
If the cabinet designs are more modern then bright and contrasting colors will work the best.
Kitchen sizes and lighting
You also need to consider the size. For small kitchen possibly there will not be enough lights and hence it will be preferable to select any lighter color instead of dark color.
What is paint color of wall?
Look at the color if the wall of the kitchen and your cabinet color must be contrasting to its wall color. In case, you have decided to change the wall paint then you must choose a complementary color for the kitchen cabinet too.
What mood you like to create?
Another important factor that needs to be considered is the particular mood that you want for your kitchen setting. Since the cabinets will consume majority of your visual space, hence you must select cabinet color which will fit with your personality.
Look for various ideas for kitchen cabinet
Try to go through different interior design magazines to get little more inspiration while choosing the color of kitchen cabinet. By looking at them you can decide about various color combinations, for your kitchen cabinet.
You can tweak all that inspiration you got and make your decision about color.
What are the various color trends?
By visiting to market and seeing the latest kitchen cabinet designs and styles you can come to know about current trends of colors used for such items.
With all these tips, you will certainly get plenty of ideas that can help you to choose the right color meant for your kitchen cabinet.