Fixing a Hole in the Wall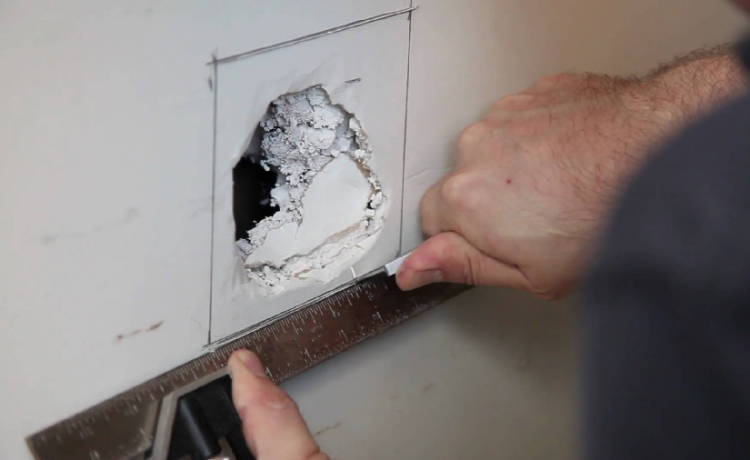 Fragility and low durability are the main disadvantages of the gypsum board that cause frequent damages to the walls covered with this material. Thereby, many people wonder how to fix a hole in the wall.
Guideline on How to Patch a Hole
The process does not require professional skills or expensive tools. Everything can be made with your hands without spending a lot of time and money.
Preparation of the Wall and Beginning of Work
You can enlarge a hole and make it geometrically shaped by using a craft knife or special drywall saw. You should:
draw a rectangle of the correct shape around a hole;
cut out an unnecessary part of the drywall surface along the perimeter of this rectangle.
Measuring Work and Patching a Hole
You can take a measurement using a tape measure, a ruler, and even a thread. You should:
measure the size of the intended hole and combine it with a new piece of drywall adding a few centimeters on each side;
cut out the necessary piece;
draw a line of the proper cut with a pen or pencil putting this piece against the damaged wall.
take a wooden bar or a mounting plate that are a little larger than a hole;
insert it into the hole and fasten it through the drywall with self-tapping screws;
place the repair peace into the remaining hollow and fasten it through the wooden slats in the same way.
Joint Sealing, Puttying, and Finishing
The main thing is not to forget about a primer coat and the overall quality of work. You should:
●      fill tightly the joints between the main construction and the repair peace with putty;
●      put a scrim tape on the joints;
●      cover it with putty again;
●      float the putty with a flint paper leveling the surface.
Summing Up
It's easy enough to patch a hole in the drywall, and even an inexperienced craftsman can handle it. The main thing is to remain calm because even a large defect can be completely dismissed with your own hands.