Replace the Wall with The Slimmest Bi-fold Door
Bi-fold doors are one of the most popular choices for modern homes. This design is suitable for homes that have a beautiful garden on the outside or a breezy balcony. These doors fold open sideways in a concertina fashion and require very little space in the sides when they open.
These doors join the inside of your home with the outside garden or balcony making it brighter and more ventilated. If you don't want to open it fully, you can open the doors in parts as per your requirement. 
'Visofold 6000' is the latest bi-fold door in the Visofold range by 'Smart Systems'. It is the best choice in terms of affordability, design, and quality. Smart Systems is a UK based company, which designs and manufactures bi-folding doors in a British fashion. Although Visofold 1000 is the best-selling door in this range, Visofold 6000 also has many distinctive features.
Why Visofold 6000?
The main concern for a house owner is that the bi-fold door might be heavy and thick, consuming more space in the side and making it look bold when it is closed. Visofold 6000 is one of the thinnest bi-folding doors.
The middle sight line of this door is unique with 138mm, which is thinner than any other bifold door or even some of the French doors. It is mainly designed for residential purposes. It is reasonably priced and has the quality that satisfies the needs of a homeowner and the trader.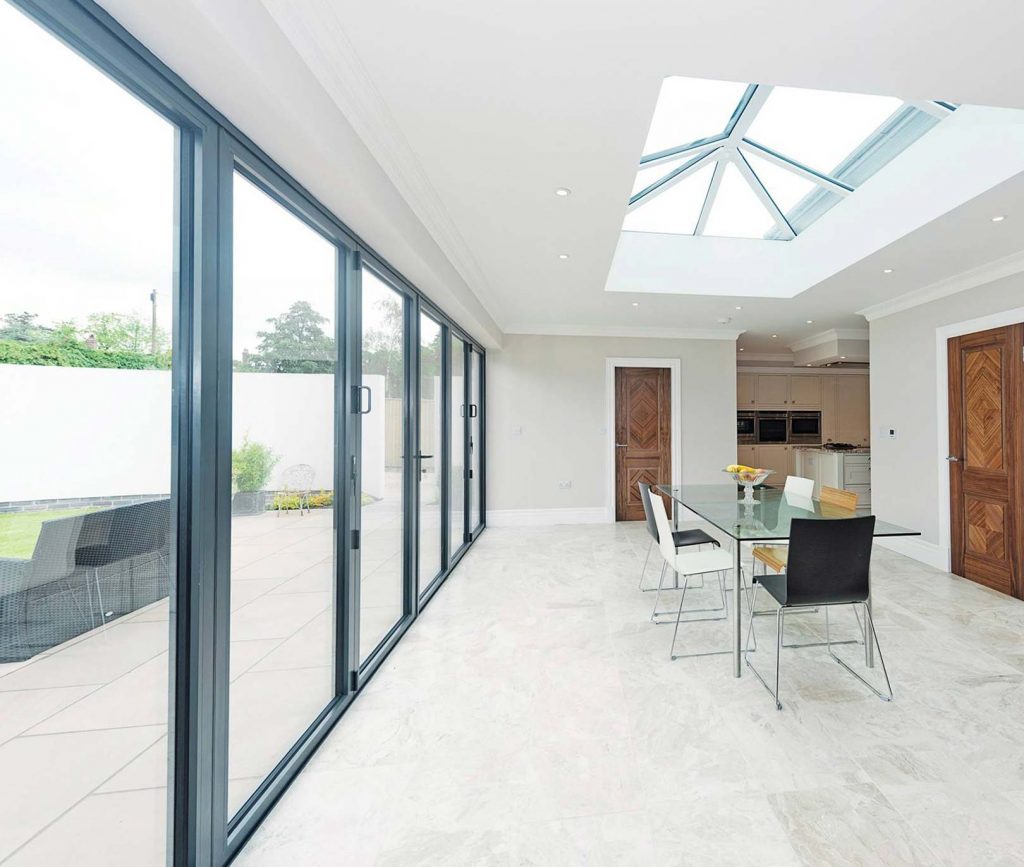 Options and Features
Bi-folding doors are usually tall with a wide door, but Visofold 6000 was designed differently. It eliminates the traditional design with 1200mm leaf width and 3m leaf height. It comes with 1000mm leaf width and 2200mm leaf height, which is different from the other door designs.
Since the dimensions are different from the others, it looks flat and has square sections supported by thin sight lines. These sight lines make it look modern and are preferred by most buyers. You can also have soundproofing walls for better experience. 
Profile and design options
Visofold 6000 comes with various design options and a huge range of profiles.
Comes with tooling and technical manual to support the installers and fabricators.

Variety of frame add-on options and ancillary profiles.

Movable corner post.

Wide range of cill sections for installation.

Sashes come as square or curved sections.

Low/flush threshold option
Another company, Aspire Bifold, has customised the Visofold 6000 with a steel look with alternative door handles and aluminium glazing bars, which make it look extremely modern.
How is it different?
When compared to the other brands, it is slim and gives a modern touch. It is as thin as 94mm, which makes it 22% thinner than the Schuco ASS 70FD that is 120mm. It is also thinner than Sunflex SF 75 bi-fold door, which is only 115mm. These dimensions include the overall frame sizes including the glazing beads.
It comes with the Smart Spark, which is the company's quality commitment to the users of the product. They stamp a mark on the door's hardware as a guarantee of extensive testing and the best quality. 
To buy the slimmest bi-folding door for your house, visit: https://www.bifoldingdoorfactory.co.uk/smarts-visofold-6000/